Data Dashboard Overview
Behavioral Health is a broad term that includes both mental health and substance use, promoting resilience and wellbeing being, treatment of those conditions, and the support of those who experience and/or are in recovery from these conditions, along with their families and communities.
This Dashboard highlights select behavioral health indicators in each of the regions, providing a comparison statewide. For more information on data displayed here, go to https://dhhs.nv.gov/Programs/Office_of_Analytics/OFFICE_OF_ANALYTICS_-_DATA___REPORTS/
Statewide Data Highlight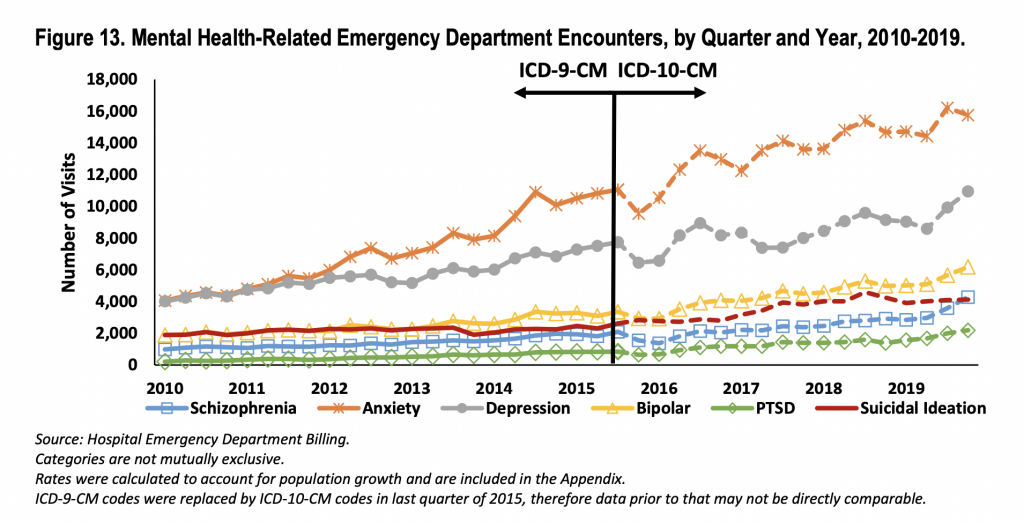 Anxiety has been the leading mental health-related diagnosis since 2012 in emergency department encounters. Anxiety-related encounters increased significantly from 2010 to 2019 in both counts and rates.
The following data is reproduced from other sources. Hover your curser over the category title (such as Suicide) to view the source of data for that category. In some case we are able to show trends over time, but for certain metrics the data is not available.
Select region:
Significantly positive trend
Significantly negative trend
Suicide
Number of completed suicides
Youth up to 25
VALUE
0
2019
Deaths per 100,000 population
COMPARED TO:
Nevada Statewide
16.6 (2019)
Number of completed suicides
25-64
VALUE
191.1
2019
Deaths per 100,000 population
COMPARED TO:
Significantly Higher
Nevada average
Nevada Statewide
101.7 (2019)
Number of deaths by suicide
Seniors (65+)
VALUE
185.6
2019
Deaths per 100,000 population
COMPARED TO:
Higher than
Nevada average
Nevada Statewide
123.1 (2019)
Emergency Department admissions for suicidal ideation
VALUE
505.1
2019
Visits per 100,000 population
COMPARED TO:
Nevada Statewide
520.2 (2019)
2017 Clark/Southern Regions
520.9
Substance use
ER visits for substance use
Methamphetamines
VALUE
377.6
2019
Visits per 100,000 population
Categories are not mutually exclusive
COMPARED TO:
Nevada Statewide
489.1 (2019)
ER visits for substance use
Marijuana
VALUE
232.4
2019
Visits per 100,000 population
Categories are not mutually exclusive
COMPARED TO:
Significantly Lower
Nevada average
Nevada Statewide
382.7 (2019)
ER visits for substance use
Opioids
VALUE
211.2
2019
Visits per 100,000 population
Categories are not mutually exclusive
COMPARED TO:
Higher than
Nevada average
Nevada Statewide
200.1 (2019)
Alcohol and Drug related death rates
VALUE
54.1
2019
Rates are per 100,000 age-specific population
COMPARED TO:
Higher than
Nevada average
Nevada Statewide
49.9 (2019)
2017 Clark/Southern Regions
147.8
Mental health
Poor mental health: 10 + days
COMPARED TO:
Nevada Statewide
17.6% (2019)
2017 Clark/Southern Regions
17.4%
Mental Health related Emergency Department visits
Anxiety
VALUE
1773.7
2019
Source: Hospital Inpatient Billing
Rates are per 100,000 age-specific population
COMPARED TO:
Nevada Statewide
1970.2 (2019)
2017 Clark/Southern Regions
1023.5
Mental Health related Emergency Department visits
Depression
VALUE
1125
2019
Source: Hospital Inpatient Billing
Rates are per 100,000 age-specific population
COMPARED TO:
Nevada Statewide
1241.4 (2019)
2017 Clark/Southern Regions
1125.9
Mental Health related Emergency Department visits
Bipolar
VALUE
500
2019
Source: Hospital Inpatient Billing
Rates are per 100,000 age-specific population
COMPARED TO:
Significantly Lower
Nevada average
Nevada Statewide
708 (2019)
Clark/Southern Regions
461.8 (2017)
Youth
High School Students who currently use alcohol
COMPARED TO:
Nevada Statewide
23.9% (2019)
2017 Clark/Southern Regions
25.2%
High School Students who have used methamphetamines
COMPARED TO:
Nevada Statewide
2.9% (2019)
2017 Clark/Southern Regions
2.8%
High School Students who use marijuana
COMPARED TO:
Nevada Statewide
18.8% (2019)
2017 Clark/Southern Regions
18.4%
High School Students who attempted suicide
COMPARED TO:
Nevada Statewide
8.9% (2019)
2017 Clark/Southern Regions
8.2%
High School Students who felt sad or helpless
COMPARED TO:
Nevada Statewide
40.7% (2019)
2017 Clark/Southern Regions
34.4%
High School Students who've thought seriously about committing suicide
COMPARED TO:
Higher than
Nevada average
Nevada Statewide
18% (2019)
2017 Clark/Southern Regions
15.9%