SafeVoice Data Shows Sharp Incline in Suicide Threats Among Carson City Youth
2 years ago
By Michelle Kirkland | 3min read
By Michelle Kirkland
In response to the growing concerns over bullying and violence in schools, the State of Nevada has implemented SafeVoice, a free and anonymous reporting tip line. Through a 24/7 hotline and mobile app, students, parents, and community members can safely voice their concerns about themselves or someone else.
The goal of SafeVoice is to prevent bullying, school violence, suicide, or other tragedies before they happen. Nevada schools are using SafeVoice as a tool, to protect their students and save lives.
In a collaboration with Nevada's Department of Education and Nevada Department of Public Safety, SafeVoice screens tips for emergencies. Crisis situations are then sent directly to law enforcement. Non-emergencies are directed to the school and behavioral health teams for their appropriate response.
Since SafeVoice's inception in 2017, the anonymous tips have been collected as data and give a glimpse into the concerns that our community is facing. Carson City has seen a shocking increase in the number of suicide and child abuse and neglect tips since 2019.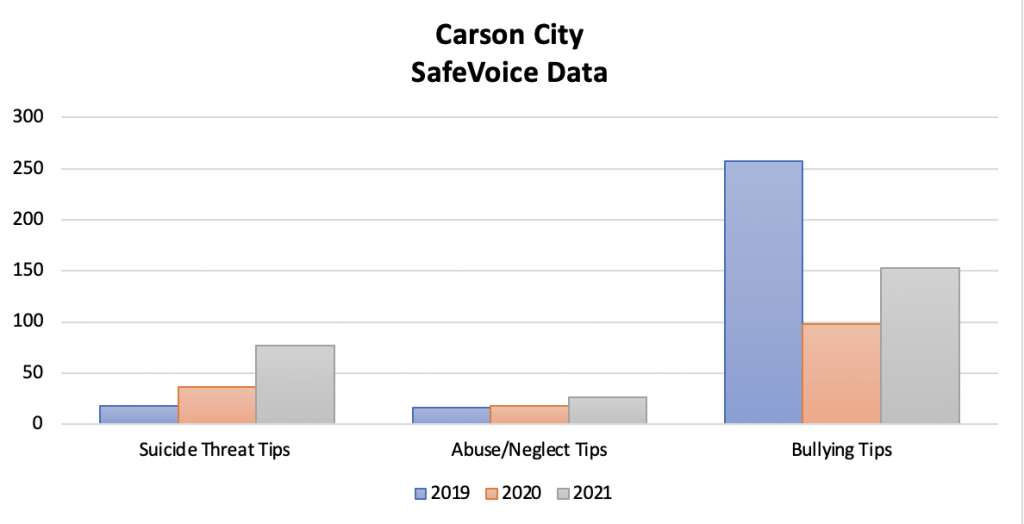 Source: SafeVoice Nevada
From 2019 to 2021, Carson City has seen an increase in suicide threats among youth and child abuse and neglect reports. The number of youths at risk for suicide saw a 327.8% increase over the two-year span. This exponential growth is alarming, as it was occurring during the school closures during the COVID-19 pandemic.
The recent statistics on the rise of suicide risk among Carson City youth are frightening. While these numbers are staggering to hear, behavioral health advocates and support teams were there to provide the right interventions through the tips received on SafeVoice.
The number of children reported to being abused and neglected increased 62.5% from 2019 to 2021. SafeVoice tips for child abuse and neglect have been on the rise in Carson City since 2019. Exactly why child abuse and neglect tips have been on the rise is not completely known. However, many families have felt an extra burden of stress since the COVID-19 pandemic. Families were faced with job insecurities and economic stress, and with the school closures happening at the same time, it set up the perfect storm for rising rates of abuse and neglect in school-aged children.
After a sharp decline in the number of reported cases of bullying in 2020, SafeVoice reports an upward trend in bullying in 2021. Reports of bullying decreased 61.9% from 2019 to 2020, only to increase 56.1% in 2021. The down to upward trend could be due to more students participating in distance learning during the height of the pandemic.
Unfortunately, this newly released data from SafeVoice is just the tip of the iceberg when it comes to how Nevada's youth was affected during the pandemic. The hope is that with schools and the world opening up again, Carson City will see the suicide and abuse risk decrease during 2022.
Until then, we can have confidence that SafeVoice is a platform our community trust as a resource for help. If you would like more information about SafeVoice, please visit their website at http://safevoicenv.org/